8 places for al fresco dining in Darlington
One of the best things about the warmer summer weather is al fresco dining in Darlington. A sunny day, combined with the sounds of chatting and clinking glasses, makes outdoor dining a must-do this summer for families, couples and friends who want to soak up some atmosphere whilst they eat.
As soon as the temperature rises, the historic streets of Darlington become a warren of al fresco eating, with restaurants throwing open their doors and lining the pavements with tables and chairs. There are so many spots to choose from and a fantastic assortment of cuisines, so take a look and get your booking in.
1. The Old Yard Tapas Bar
If you want to feel as though you've been transported to the cobbles of a Mediterranean street, you'll love The Old Yard Tapas Bar. They offer Spanish tapas and Greek meze that you can mix and match to create your perfect spread. That means you can eat delicious patatas bravas and tortilla Española alongside halloumi and hummus, giving you the best of both worlds.
Find The Old Yard Tapas Bar at 98 Bondgate, DL3 7JY and learn more on their website.
2. Hash
Grab yourself a slice of big city living in a small town by visiting Hash's rooftop terrace. This family-owned café and bar offers a relaxing, airy and comfortable place to unwind and enjoy fresh food. With options for breakfast through to lunch, followed by evening drinks, this is a spot to enjoy at any time of the day. And by sitting out on the rooftop terrace, you can see Darlington from a whole new perspective whilst you sip and dine.
Find Hash at 14 Coniscliffe Road, DL3 8HN and learn more on their Facebook page.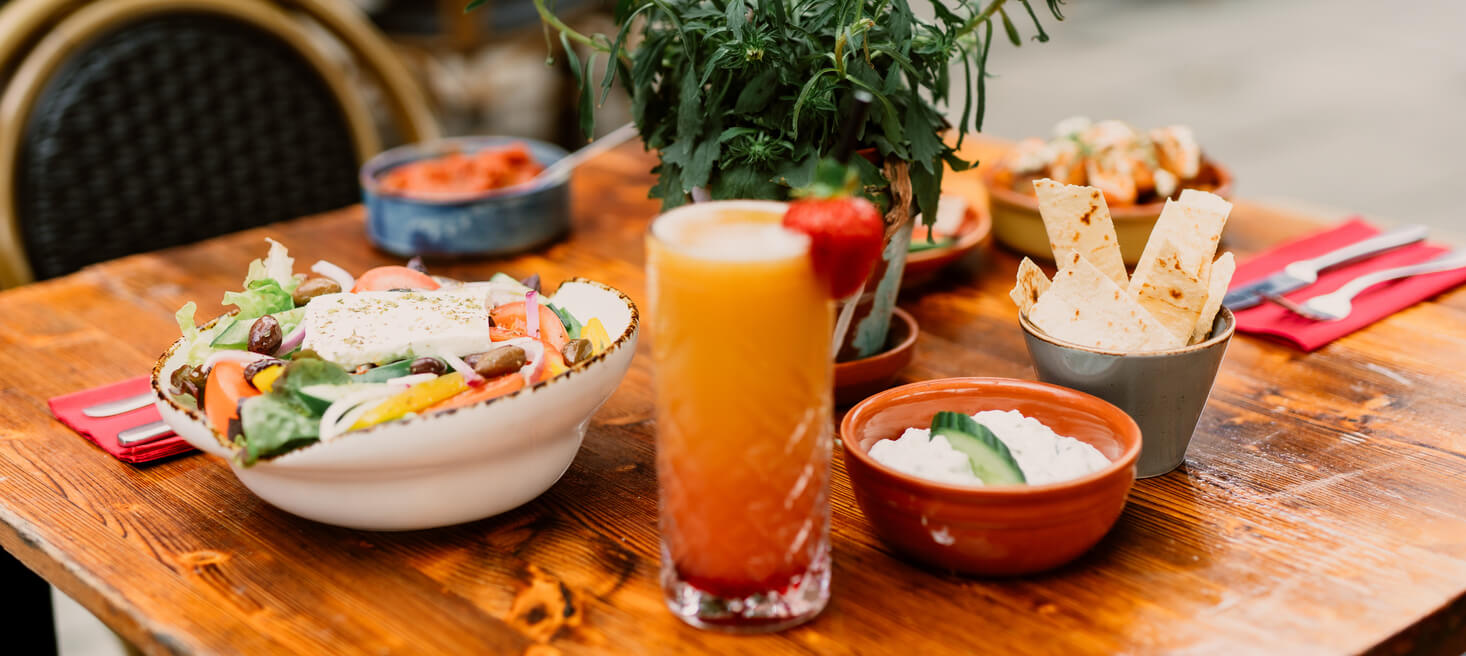 3. Hole In The Wall
In the summer, Darlington's Market Square becomes a pub food piazza with the surrounding pubs offering their own outdoor eating. One of the spots, Hole In The Wall, has been a fixture in the square since the 1800s, once offering a watering hole to the Quakers, but now serving up hearty food and traditional ales. It's ideal if you're after something hearty, but want to take the casual pub vibes out on to the street.
Find Hole In The Wall at 14-15 Horsemarket, DL1 5PT and learn more on their website.
4. Number 16 Horsemarket
If you'd like to sit out in the Market Square, but don't fancy a full meal, you'll love Number 16 Horsemarket. This café is a perfect place to enjoy cake and coffee, and watch the world go by as you soak up the atmosphere. They also offer light bites and a range of classics, so you can grab a slap up bacon sandwich, a hot panini or a filling jacket potato before you explore the town centre.
Find Number 16 Horsemarket at 16 Horsemarket, DL1 5PT.
5. The Pennyweight
Another pub that borders the Market Square is The Pennyweight, another fantastic option for al fresco dining this summer. This spot has a wealth of history behind its doors and was once a communal baking shop, where locals would bring their homemade pies and cakes to be cooked. This is a great place to visit if you want a view over the Market Square while the summer events are on, so you can enjoy live entertainment while you grab a bite to eat.
Find The Pennyweight at 8 Bakehouse Hill, DL1 5QA and learn more on their website.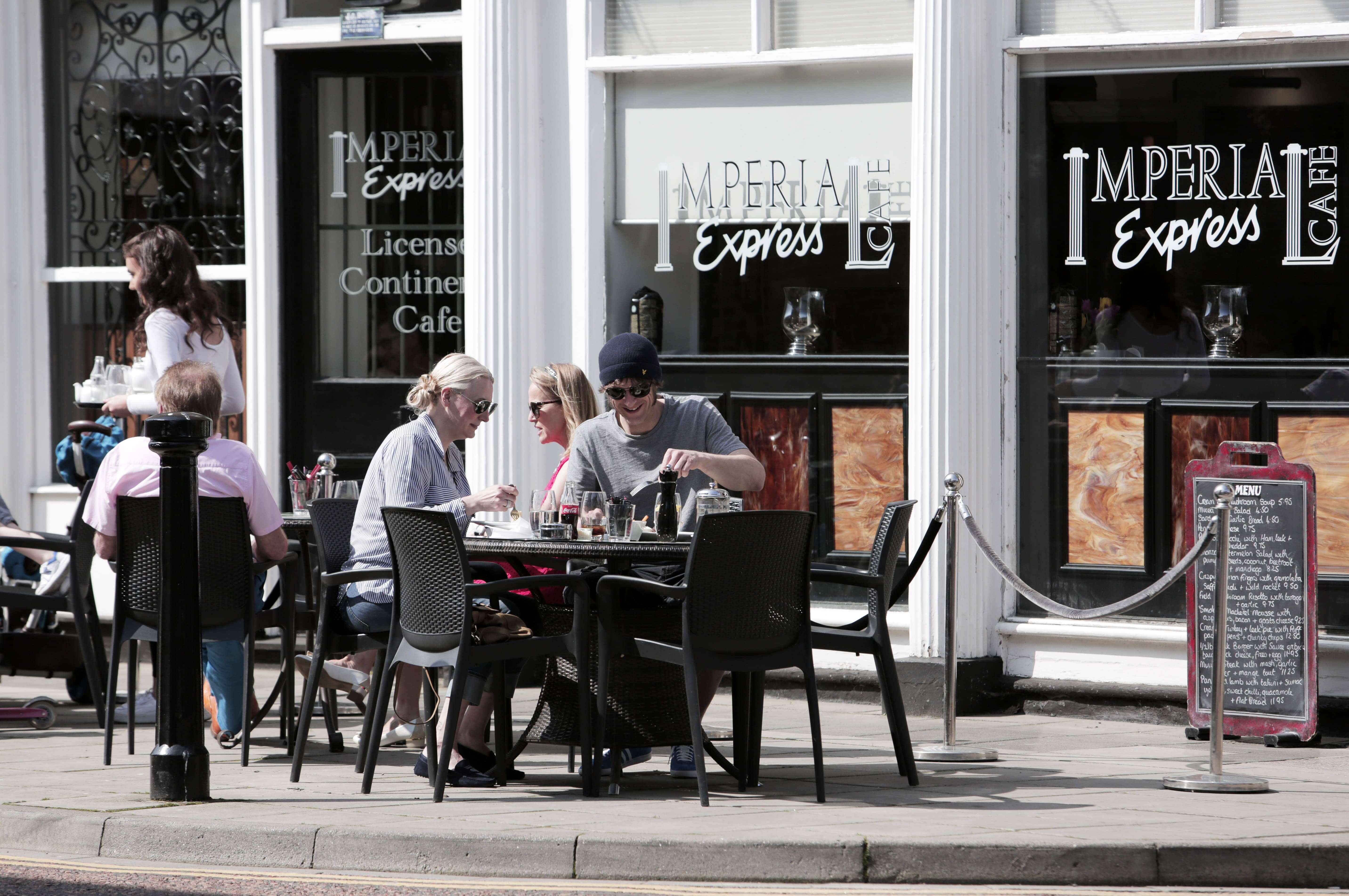 6. Imperial Express
Take your tastebuds on a trip around Europe with Imperial Express. The shining sun combined with their continental dishes means you'll feel like you could be absolutely anywhere! They offer breakfast, lunch and dinner menus, so you'll have lots of options throughout the day, including amazing arancini, bruschetta, rosti and so much more. This café restaurant also specialises in Italian wines, so make sure you ask about pairings to really ramp up the Riviera vibes.
Find Imperial Express at 2 Northumberland Street, DL3 7HJ and learn more on their Facebook page.
7. Dr.inks
Take your al fresco experience up a notch with cocktails, Proseccos and G&Ts from Dr. inks. This beautifully restored townhouse is set over three floors with lots of quirky features and Instagrammable corners, but they also have their own gardens! There are two green spaces, complete with picnic tables for casual drinks and cosy, cushioned benches to snuggle up on. Alongside their drinks, you can also nibble on a sharing board, enjoy an afternoon tea or indulge on a sweet treat.
Find Dr. inks at 3 Coniscliffe Road, DL3 7EE and learn more on their Facebook page.
8. Hatch Luncheonette
For sensational breakfast, brunch and lunch, try Hatch Luncheonette. In summer, this popular café spills out on to the Blackwellgate pavement, offering a glorious sunshine spot to enjoy smashed avocado and poached eggs, smoked salmon bagels, falafel bowls and so much more. And what makes this spot even better is that it's completely dog-friendly, no matter if you sit inside or out. This is a hugely popular spot all year round, so make sure you pay a visit to see why this is such a loved place in the town!
Find Hatch Luncheonette at 32 Blackwellgate, DL1 5HG and learn more on their Facebook page.
If you're heading to Darlington this summer for some al fresco dining, why not make a day of it? There's a whole schedule of events to enjoy, as well as lots of opportunities for some retail therapy.
---