Explore Darlington's Duke Street
Explore the gateway to Darlington town centre by browsing, shopping and eating on Duke Street. Sandwiched between Stanhope Road North and Skinnergate, the street is home to an array of independent eateries, shops and businesses, making it an exciting spot to visit. Whether you need a place for an indulgent breakfast, a family dinner or to find that perfect gift, Duke Street has got something for you.
House of Flavour
Brand new to Duke Street, House of Flavour promises breakfast, lunch, coffee and good times. You'll find this colourful spot at number 53 with a menu full of sandwiches, wraps, burgers, fries and more! They also give you the chance to remix your order, choosing a base, a filling, extras and sauces to have your food the way you want it. You should also check out their incredible frappshakes - you won't be disappointed!
Maggie's
Cake and coffee lovers, Maggie's is one for you. Located at 54 Duke Street, this very popular café is known for its incredible breakfast and brunch options. From traditional cooked breakfasts to eggs Benedict, to their own specials, like the B.E.C. - crispy smoked bacon, soft scrambled egg, Swiss cheese, sriracha hollandaise, rocket and straw potatoes on sourdough toast. It's as good as it sounds! They also sell slices of their homemade cakes, which are great with a cuppa whilst watching the world go by. As this is such a busy spot, we recommend booking ahead to guarantee a table.
Bliss Gifts
Shopping for any occasion is super easy with Bliss Gifts as their shelves are bursting with all kinds of goodies. You can find this unique, independent gift retailer at number 20 with oodles of stylish and exciting cards, stationery, jewellery, accessories, toys and so much more. Many of their gifts are sourced from local makers and the owners opt for ethically sourced items where possible, so you can shop guilt-free. No matter if it's a birthday for any age, an anniversary, a wedding or Christmas, this shop can help you find the perfect way to give.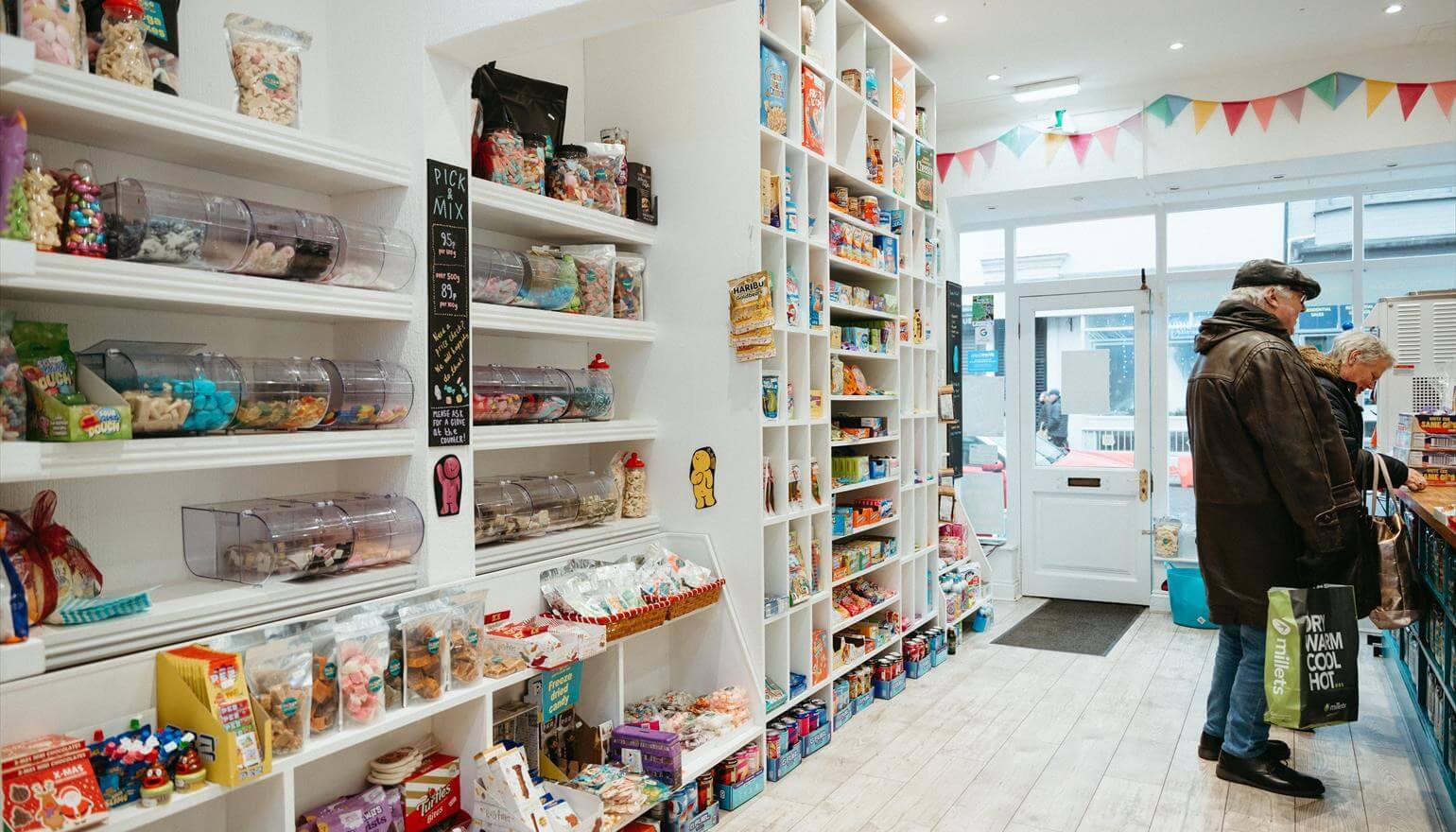 Hideaway
One of the newest additions to Duke Street is bar and pizzeria, Hideaway, at number 26, which is ideal if you want somewhere to hit on the weekend. The owners have nailed the perfect pairing – delicious freshly made pizzas and dirty fries with craft beers and cocktails – so it's one to get on your list for casual get togethers or a night out with a difference. And if you're having a mooch with your pooch, you'll be pleased to know that Hideaway is dog-friendly, so make sure you pop in for a slice!
Andy's Candy Bar
If you've got a strong sweet tooth, you definitely need to take a look at Andy's Candy Bar at 15 Duke Street. This shop combines the nostalgia and fun of a traditional sweet shop with unique and imported treats, giving you a taste of both worlds. You'll be able to find classic sherbet lemons and liquorice torpedoes alongside sodas and sweets from around the world! The shop is also very quick to jump on sweet-themed trends, so you can expect to find the latest treats on their shelves. Why not pop in to pick up a quarter bag of your favourites or try something new?
Eliza Blooms
For all things floral, call into Eliza Blooms at 19 Duke Street. The scent of the seasonal flowers hits you first as you step through the door, then you're met with a sea of colour arranged in vases scattered over shelves. It's a truly beautiful shop to take a peek in and is a great place to browse if you need a special gift bouquet, an arrangement for an event or a real showstopper of a centrepiece for a wedding. The staff are incredibly helpful and are always on hand if you need advice or inspiration, so make this your number one stop for your flower needs.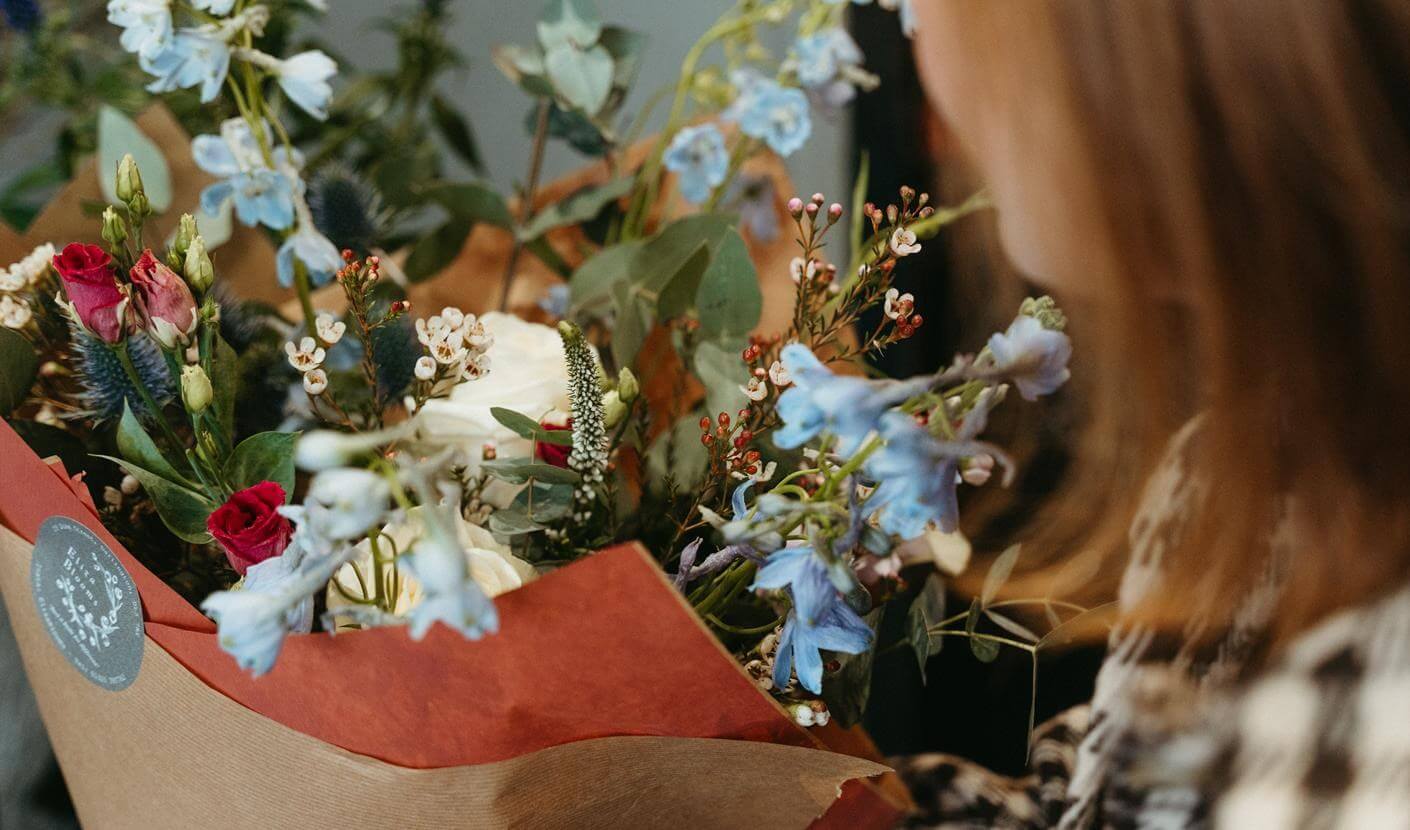 Angel's Cut
Angel's Cut was the first bar and bottle shop to open on Duke Street, making it a real jewel in the area's crown. The décor in this spot at number 39 takes inspiration from the 1920s, but don't worry, there's no prohibition here! The bar serves a range of spirits from regional and national distilleries, plus craft ales, ciders, bottled beers and soft drinks. It also doubles up as an off-licence, stocking an impressive array of bottles to buy and take away for yourself or as a gift. It's a fantastic spot for a date or an evening with friends. Make sure you keep an eye on their social media to find out about their charcuterie nights too!
Sorelle Beauty
We all need a pamper every now and then, and there's no better place to have one than at Sorelle Beauty. This pretty-in-pink beauty salon can be found at 32 Duke Street, offering a huge assortment of beauty treatments. If you need a tan top up before your holiday, they can help. If you want to freshen up your skin ahead of a big event, they've got you covered. If you fancy some new lashes for a night out, give them a call. They've got something to suit everyone, so take the time to indulge yourself a little and truly relax in their serene surroundings.
Akbar the Great
If you want to try a restaurant that is always at the top of Darlington's TripAdvisor reviews, give Akbar the Great a go. Located at 22 Duke Street, this family-run restaurant specialises in authentic Indian cuisine and is a hugely popular choice with diners in the town. Their huge menu offers something for everyone, from people who love a milder meal and vegetarians, to spice connoisseurs and seafood fans, so it's a great option if you're feeding a family. Since opening in 2019, Akbar the Great has made a really strong impression on Darlington's food scene, so it's one that you absolutely need to check out.
Eco Hair Salon
Did you know that 31 Duke Street is home to Darlington's first eco-sustainable and gender neutral hair salon? Eco is all about fusing their passion for creative hair styling with products that are both kind to the planet and to your hair. Not only can you get a cut, colour or restyle using sustainable, cruelty-free brands and practices, but the salon's interior is also mostly made from upcycled reclaimed timber, pallets and scaffold boards! As this is a gender neutral salon, they are open to all and base their prices on the thickness of your hair, rather than your gender. Plus, they offer kids cuts too, so it's ideal for the whole family.
Stan Seaton Photography
What better way to capture precious family memories than by paying Stan Seaton a visit in his Duke Street studio? Based at number 37, Stan and Jane Seaton offer beautiful portrait photography, from bumps and babies in their pregnancy and newborn shoots, to toddlers, teenagers and families in their group portraits. The husband and wife duo are also more than happy to take their photography services on the road for outdoor shoots, so why not pop in and see what they have to offer? You could also purchase a gift voucher for someone who you think would steal the limelight in a snapping session!
---
With all of these spots and more to discover on Duke Street, this is an area of Darlington to have high on your "must visit" list. You might just find your new favourite dining spot or go-to shop for some retail therapy.
---